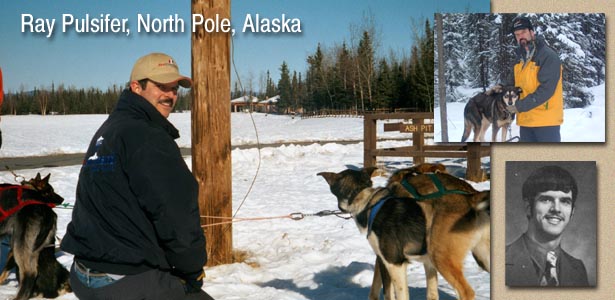 Ray currently works for Key Bank in North Pole, Alaska. He says, yes, Santa exists and is a close personal friend. Ray has a large house on 2.5 acres, including part forest. One of his hobbies is amateur sled dog racing, including recreational mushing spring distances 4-dog class. He is active in several sled dog race organizations in Alaska and sled dog racing is a family activity with his children now taking part. Ray also scuba dives when he can, hunts, fishes, camps, goes 4-wheeling, and is active in church activities. He flies for a missionary group called LAMPS (Lutheran Association of Missionary Pilots), is on the North Pole Chamber of Commerce, and is past Commander of Post 10029 of the Veterans of Foreign Wars. Ray is divorced, has 3 kids, 14 dogs, 4 cats, fish and a turtle.
While at South Albany High, Ray was the Class President for the Class of 1974. He was a member of the Rebel football team, swim team, track, and A Cappella choir. As an AFS foreign exchange student for South High, he spent a summer with a host family in Madrid, Spain.
Note: Ray donated $75 to help with the 30th reunion expenses!
www.southalbanyhighreunion.com
This web site was created for the 30 year reunion of the Class of 1974. Information about other reunions is provided as a courtesy, but we are not responsible for the accuracy of that information. Website design and hosting donated by Wind River Web Services. All photos copyright 2004, Wind River Web Services, may not be used without permission. Please contact webmaster Dawn Ballou, dawn@southalbanyhighreunion.com, 541-924-5729, Albany, Oregon, for more information about this website.