Many thanks to the following people and businesses who have helped to sponsor our Class of 74 reunion! Sponsorship ads are $25. If you are interested in a reunion sponsorship ad, please contact Dawn Ballou, dawn@southalbanyhighreunion.com, phone/fax 541-924-5729. Credit cards accepted. Click on the links to jump to their pages.
Lance Leonard ($100) Clearskin101
Dale Ballou May ($25) Legacy106
Dawn Ballou ($50) LibbyMT.com and Pinedale Online!
Patty Street ($25) Edward Jones
Ray Pulsifer ($75)
Bruce Phillips ($25) B & M Enterprises
Debbie (Gielish) Johnston ($20)
David Nice ($50)
Diana (Messer) Smith ($100)

Thank you everyone for your generous donations to help sponsor our reunion costs! Expenses include multiple newspaper ads, reservation of Bryant Park group area for picnic, picnic liquor permit, door prizes, name tags, photocopies. If we have enough donations, we may also be able to purchase decorations and possibly some food for the events.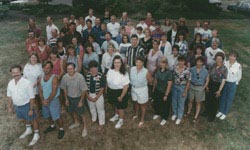 Class of 1974 in 1994

Many thanks to the Albany Democrat-Herald newspaper for their $60 contribution to our reunion with regards to our newspaper ads! Please visit their web site for current news about Albany!
www.southalbanyhighreunion.com
This web site was created for the 30 year reunion of the Class of 1974. Information about other reunions is provided as a courtesy, but we are not responsible for the accuracy of that information. Website design and hosting donated by Wind River Web Services. All photos copyright 2004, Wind River Web Services, may not be used without permission. Please contact webmaster Dawn Ballou, dawn@southalbanyhighreunion.com, 541-924-5729, Albany, Oregon, for more information about this website.